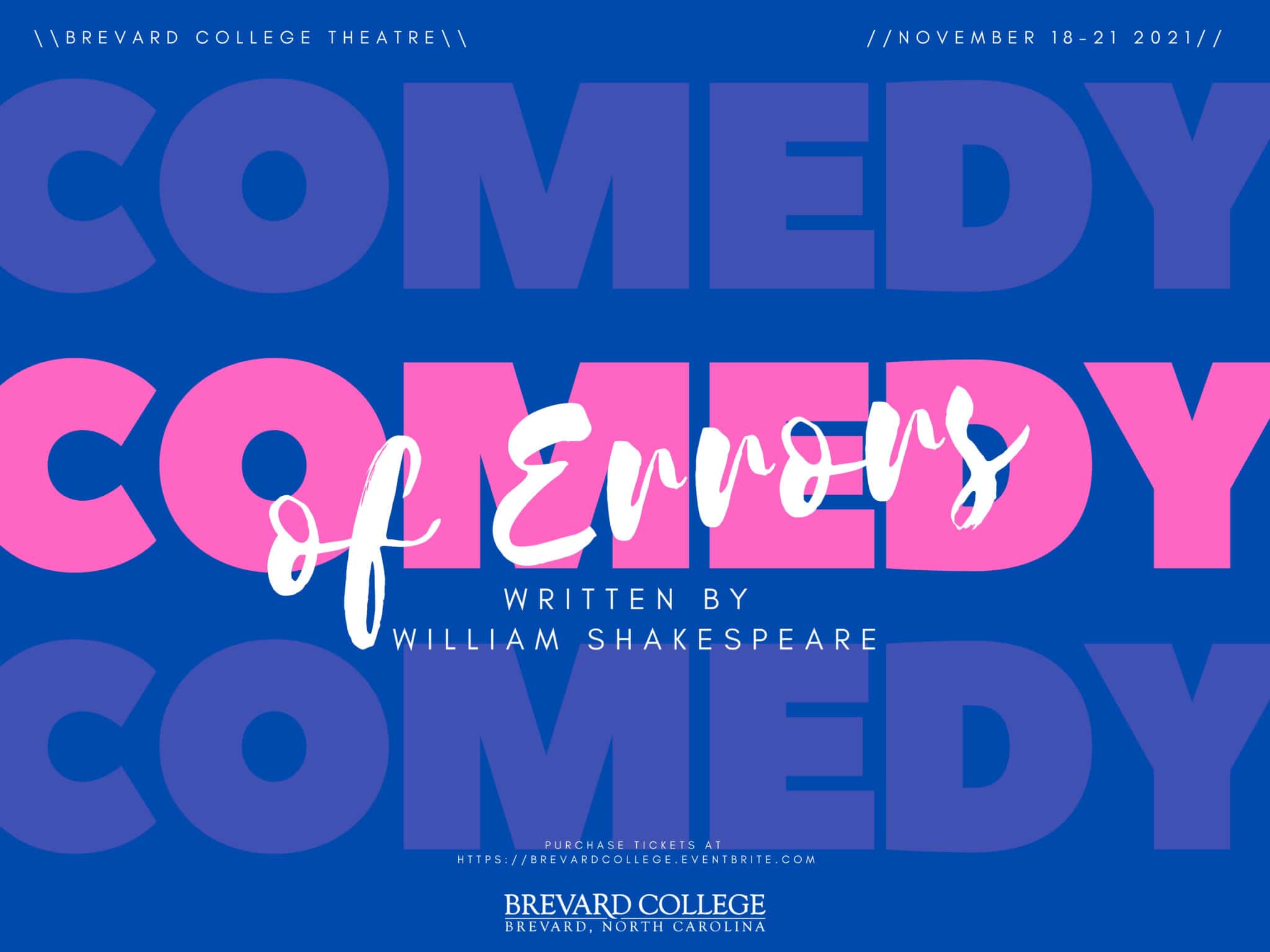 Brevard College Theatre will present The Comedy of Errors on November 18, 19, and 20 at 7:00pm EST, and November 21 at 2:30pm EST. The production will be held at the Morrison Playhouse in the Paul Porter Center for the Performing Arts.
Director Abbey Toot brings this play to life at this time because "Shakespeare is exciting! His is works are language driven–but that language is a fully lived experience: it's alive, and it takes our full bodies to give and receive that language. His text is driven by people trying with their whole selves to put language around their lived experience, their memories, their assumptions, their beliefs."
"At times during the pandemic when my physical experience or interaction was limited, I found myself gravitating to podcasts, audiobooks, TV, movies and any forum that allowed me to experience the fullness of life in my imagination. Shakespeare helps us take that articulated experience and put it into action. Through this story we have explored what it is to crave community and connection."
"The Comedy of Errors is a silly, fast paced story with lots of misunderstandings, miscommunication and confused identity, but it also reveals a lot of heart, a desire to connect and, for me, it sets up a desire to value patience, a new relationship to time and deep, honest curiosity."
Tickets can be purchased online at brevardcollege.eventbrite.com or at the door, if available. Ticket prices are $5 for students and $10 for the general public. To attend a Brevard College Theatre performance in person, you must agree to follow COVID safety protocols of presenting identification and proof of vaccination at the Box Office. You must also wear a mask at all times inside the Paul Porter Center for the Performing Arts. There will be a streaming option available for purchase for this production through brevardcollege.eventbrite.com.
All of our Brevard College Theatre faculty and mainstage production cast/crew are fully vaccinated. Additionally, all unmasked performers have tested negative for COVID before each performance.
Brevard College is located at 1 Brevard College Dr, Brevard, North Carolina. More information can be found at https://brevard.edu/theatre/ or by calling 828.641.0605.