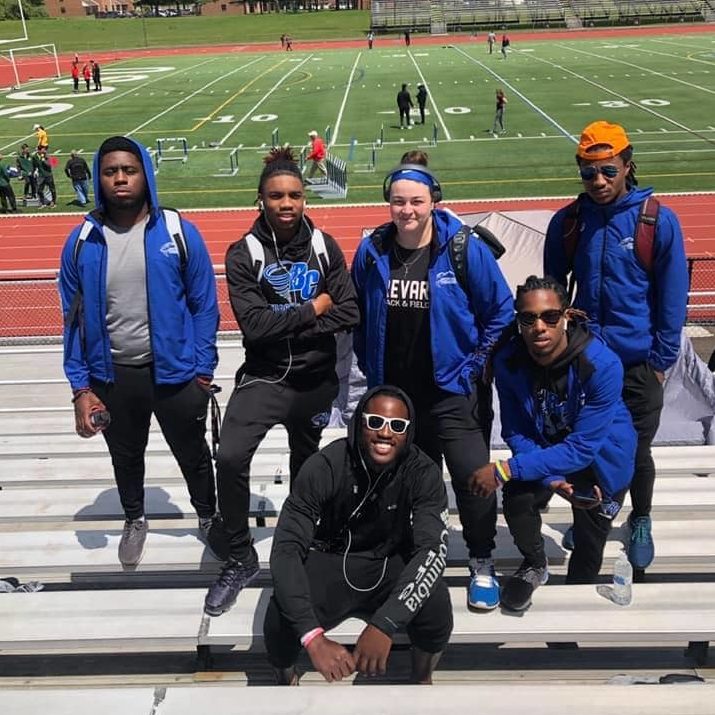 Six members of the Brevard College Tornados Track & Field team made the trip to New Haven, Connecticut to compete in the ECAC Outdoor Track & Field Championships, hosted at Southern Connecticut State University.
BC was highlighted by a first-place 4×100-Meter Relay finish from CJ Walton, Eddie Dean, Jamerial Parks, and Quentin Jackson. The quartet, who finished second place at the USA South Track & Field Championships, won the event with a stellar time of 42.60, .57 faster than the second place finishers. 
Head Coach Darryll Patrick brought six qualifying Tornados to the event: Ashley Jones, Kyle Fennell, Dean, Jackson, Parks, and Walton. 
The first day of competition, Wednesday, May 15, featured the 100-Meter Dash Prelims, which Parks and Walton qualified for. Parks' time of 10.97 placed him fourth and qualified for the Finals, which were held on Thursday, May 16. Walton finished just shy of placing in the qualifying top-eight, running an 11.17 that placed him ninth.
Brevard's busiest day of action was on Thursday, as the Tornados competed in five events total.
Fennell kicked the action off for the Tornados in the Men's Shot Put, throwing a long of 12.83 meters for a medal-earning, eighth-place finish.
Jones represented Brevard's Women's Track & Field team, competing in the Women's Shot Put. Jones placed 15th with a long throw of 9.67 meters.
Brevard's 4×100-Meter Relay squad of Dean, Jackson, Parks, and Walton then competed in a highly-competitive Men's 4×100 Meter Relay field. The Tornados took home gold in the event, placing first with a time of 42.60.
Thursday's gold medal was a fitting end to BC's 4×100 relay team's season, as the quartet impressed all season. Brevard's relay team earned second place at the USA South Track & Field Championships held in mid-April.
Parks competed in the Men's 100-Meter Dash Finals on Thursday, finishing in eighth place with a time of 11.17.
Parks and his teammate Jackson closed out the championships by competing in the Men's 200-Meter Dash. Parks took home another medal with a sixth-place time of 22.73. Jackson places 11th, finishing with a 23.24 time.
Coach Patrick and the Brevard College Track & Field teams concluded their successful 2019 campaign that saw numerous personal records broken alongside solid finishes at the conference and postseason levels.