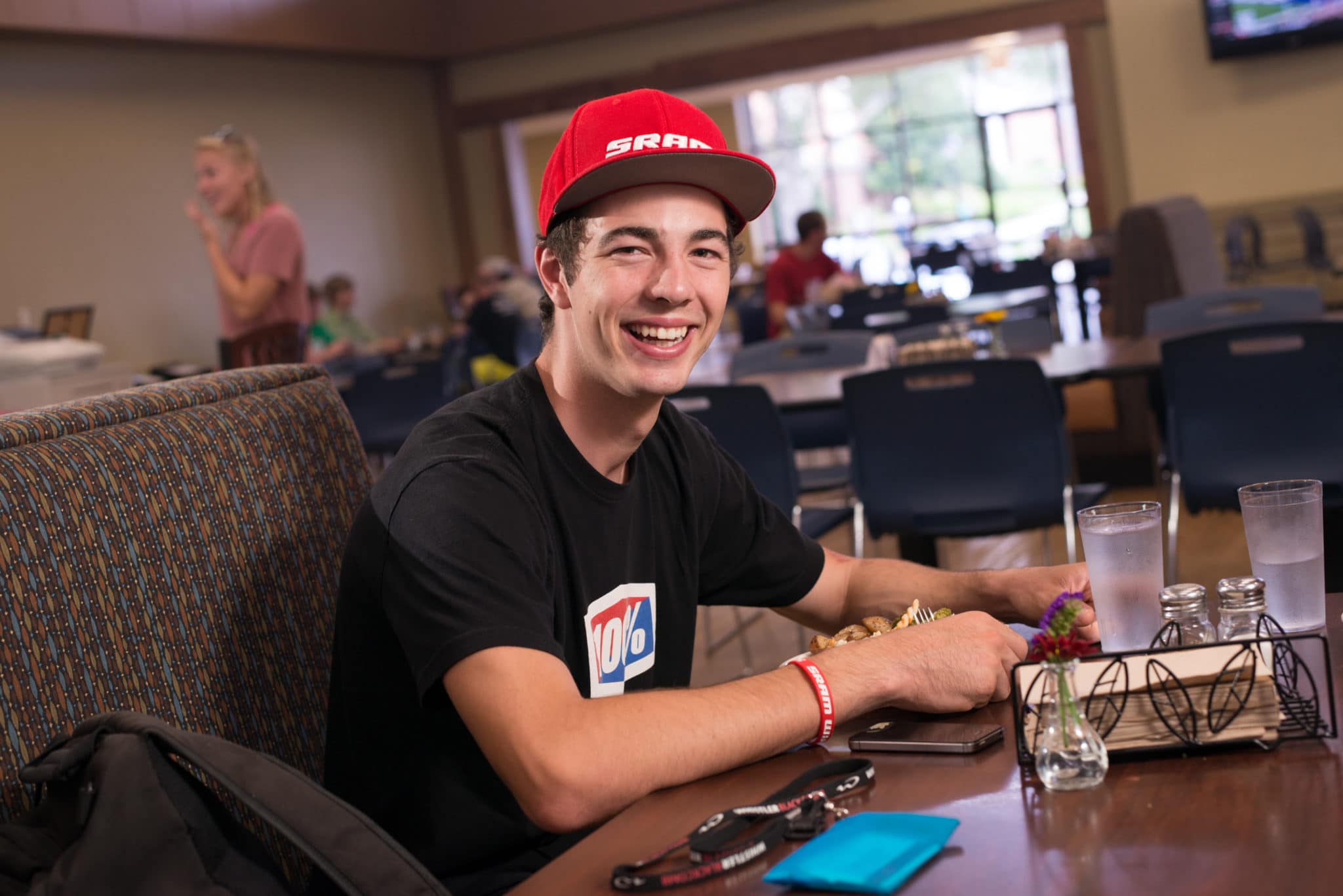 Brevard College alumna Elizabeth Jackson, the entrepreneur behind Riveter, has big dreams to inspire and connect the outdoor community in Western North Carolina. Her vision for the outdoor adventure center located in Mills River, North Carolina will have something for almost every kind of movement enthusiast.
Riveter is unique among outdoor adventure facilities, bringing together a variety of physical activities that appeal to the area's huge population of outdoor and movement enthusiasts. The climbing gym features a speed wall, top ropes, auto belays, and lead climbing as well as a Kids Climbing Cove.
The bike park includes progressive jump lines, flow lines, pump tracks and progressive drops. Riveter has a yoga studio, a fitness studio, conference space, and a kid's party room. Community tables surrounding the libation station set the stage for growing what Elizabeth calls a "killer community."
Elizabeth envisions all kinds of people in the Riveter's community, from families to beginners, enthusiasts to professional climbers and mountain bikers.
"I want to make the Riveter a comfortable place to come play and explore no matter who you are in your outdoor interests," Elizabeth said. She wants the beginner to feel just as comfortable learning and growing as the professional. She hopes the Riveter will introduce a wide variety of people to outdoor recreation in an inspiring, safe, and unique training facility.
After attending a National Outdoor Leadership School (NOLS) course, Elizabeth began looking for a college that would allow her to follow her passion for the environment. When her father brought home a U.S. News and World Report featuring the Best Colleges in the South, Elizabeth and her brother decided to take a road trip from Alabama to the mountains of North Carolina – on the list was a tour of Brevard College.
The rest, as they say, is history. Elizabeth graduated from Brevard College with a major in Environmental Studies.
Like many Brevard College students, Elizabeth forged strong relationships with her professors that followed her beyond her college years.
"The teachers at Brevard see who you are and encourage you in your interests. They saw that I had a mathematical, problem-solving mind and helped me figure out how I could tie that into environmental work," said Elizabeth.
Dr. James Reynolds, a mentor and professor at Brevard College, encouraged Elizabeth to pursue graduate school at the Nicholas School for the Environment at Duke University, where she received a Master's degree in Environmental Management focusing on Energy and the Environment.
"I want to make Riveter a comfortable place to come play and explore no matter who you are in your outdoor interests," Elizabeth said.
Riveter opened its doors on February 8, 2020. To join Riveter, visit www.riveternc.com.
To learn more about Brevard College, its programs, and graduates, schedule your campus visit.