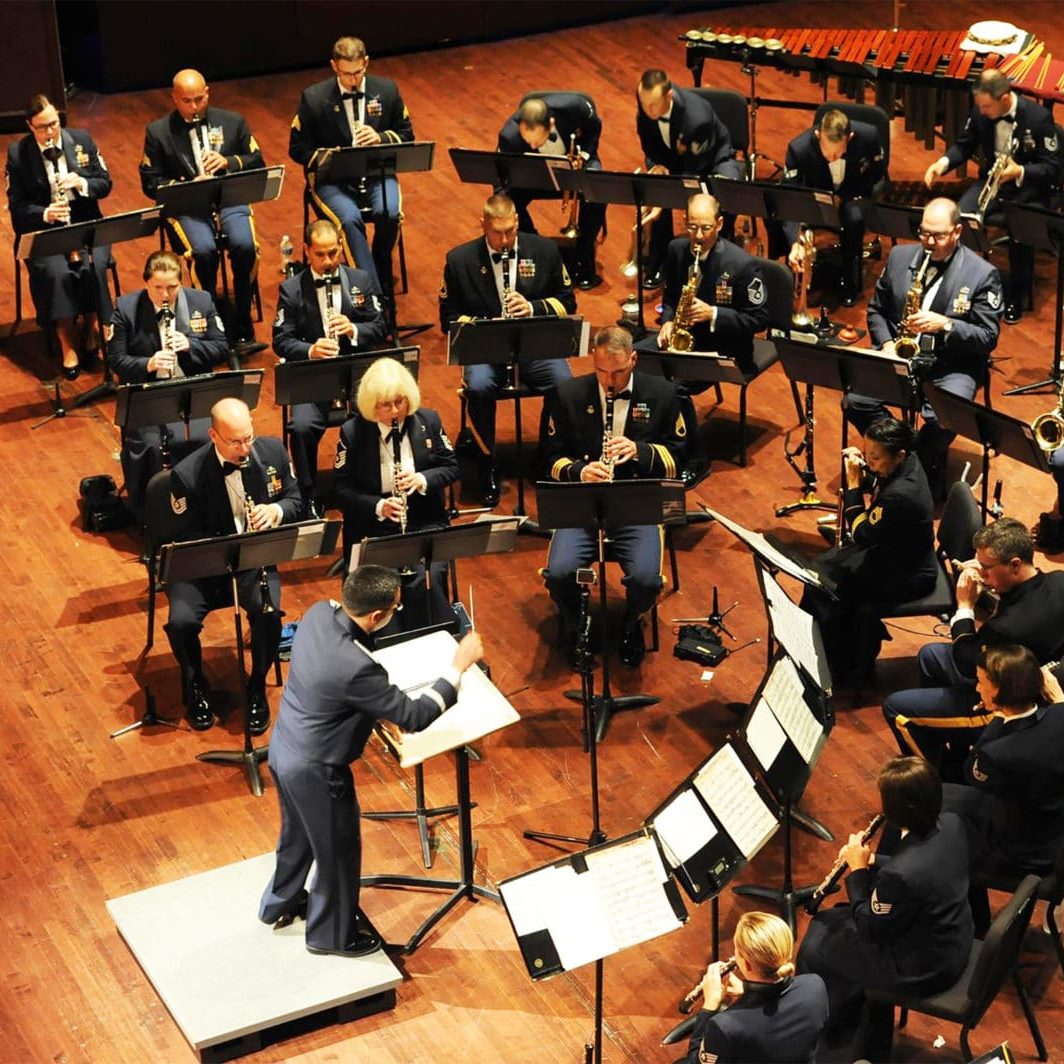 The United States Air Force (USAF) Heritage of America Band will perform at the Porter Center for Performing Arts on the Brevard College campus on Friday, April 5 at 7:30 p.m. For six decades, the USAF Heritage of America Concert Band has educated, inspired and entertained over 1.5 million people annually, by providing music for events that support Airmen and their families, honor our Nation's veterans and build relationships of trust between the American people and their Air Force.
"We are thrilled to host once again one of the nation's premiere military concert bands. The band enjoyed our hospitality, Scott Concert Hall, and the opportunity to perform for a such a wonderful audience during their visit last year. The concert program will feature a wide variety of standard and patriotic favorites," says Dr. Eric Peterson, Director of Bands at Brevard College.
The Concert Band is comprised of over 40 professional Airman-musicians who captivate audiences on regular tours throughout the East Coast with a variety of renditions of great orchestral classics, marches, Broadway hits, jazz standards, movie music and patriotic favorites.
The band has appeared with many world-renowned artists, produced over 55 highly acclaimed recordings and has performed at thousands of high-profile, community outreach and military events. The band's music is often heard on television, radio and the internet, and serves to communicate and convey Air Force core values of integrity, service and excellence to millions. These achievements have earned the ensemble worldwide acclaim as well as military awards, including eight Air Force Outstanding Unit awards, three Colonel George S. Howard Citations of Musical Excellence for Military Concert Bands and numerous Mayoral Proclamations.
The concert is open and free to the public however, those wishing to attend are encouraged to get their free tickets in advance to ensure a seat. Tickets are available at Brevard College or the Veterans History Museum of the Carolinas located at 21 East Main Street in Brevard. Contact Dr. Eric Peterson at petersea@brevard.edu or call 828-884-8147 to reserve or pick up a ticket at Brevard College.
Brevard College is consistently recognized as one of the best liberal arts colleges. The College's focus on experiential learning, small class sizes, and location the mountains of Western North Carolina near Asheville make Brevard a top choice college for students around the world.