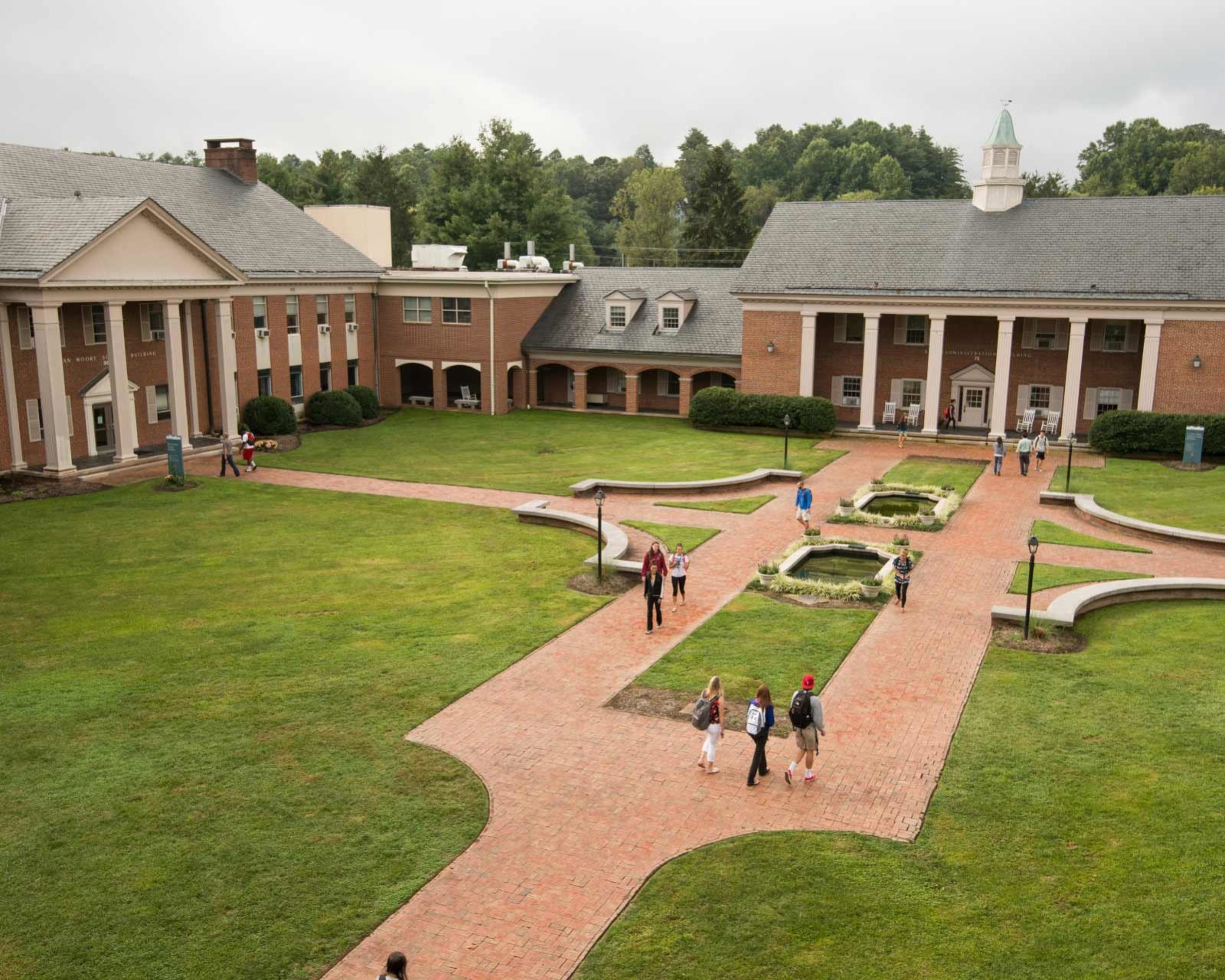 Brevard College has been announced as one of 25 finalists for the NCAA Division II Award of Excellence for its volleyball team's commitment to fighting ovarian cancer and involvement with the Meme Brown Fight Like a Girl Scholarship Fund.
The NCAA released the list of finalists on Friday, December 12 for the award, which recognizes events and activities that exemplify the type of campus and community engagement that the division emphasizes. The Division II Student-Athlete Advisory Committee was responsible for trimming the list of applicants down to 25 finalists. Brevard was the only South Atlantic Conference institution named as a finalist.
The Tornados volleyball program received recognition for its exceptional work in raising awareness of and funds to fight ovarian cancer, a disease of the female reproductive system that claims the lives of about 15,000 women in the United States every year. The team's passion for this type of service was inherited from first-year assistant coach Jordan Raye. A former all-conference setter at Catawba, Raye lost her best friend, Meme Brown, to ovarian cancer two years ago.
"I'm honored to be a part of the Brevard College volleyball program, and even more honored to raise money for ovarian cancer research in honor of one of my closest friends," said Raye.
Meme and Jordan attended and played volleyball for Starmount High School in Boonville, North Carolina together, where both graduated in 2009. Meme went on to attend Lees-McRae College, where she played for two years as a middle hitter for the Bobcats' women's volleyball team.
During her time in Banner Elk, Meme's battle with ovarian cancer, which began while she was still in high school, worsened. After two years at Lees-McRae, complications from her battle with cancer cut short her volleyball career. She transferred to nearby Appalachian State University, where she studied to become a nurse. Brown was stricken by a relapse in September of her senior year and was unable to continue her studies. She passed away on October 15, 2012 after a courageous four-year battle.
Meme is still remembered in the Boonville community for her enduring love, warmth, and omnipresent infectious smile that remained with her through her entire fight. She has inspired countless others through her unwavering faith in the midst of unthinkable circumstances, and even two years after her passing she continues to be a rallying point in the community.
The numerous loved ones she left behind started the Meme Brown Fight Like a Girl Scholarship Fund in her honor, which doubles as a scholarship given to a Starmount High School senior who plans to play collegiate volleyball and a fund that supports ovarian cancer research.
"Volleyball was Meme's love," said Brevard head coach Kelly Burdeau, who coached Meme in various camps and clinics as she grew up. "She was an extremely hard worker, leader and inspired others as a fighter on and off the court. It is only fitting that she continue to be an inspiration."
In conjunction with National Ovarian Cancer Awareness Month in September, the Tornados made it their mission to raise funds to fight the disease while increasing awareness. Brevard's efforts came to a head on September 26 and 27, when the Tornados hosted first-place Carson-Newman and second-place Lincoln Memorial in a pair of crucial SAC matches.
At both matches, a large number 32, Meme's former jersey number, appeared on the wall flanked by a ribbon of teal, the color that has come to signify the fight against ovarian cancer. The most somber reminder of the magnitude of the games came in the form of a No. 32 jersey draped over an empty first chair on the Brevard bench.
The Tornados traded in their royal blue and white attire for special gray jerseys with teal lettering and numerals. Donations were collected at both games, and commemorative gray and teal t-shirts were sold with all proceeds going to the scholarship fund established in Meme's honor. In total, the Tornados were able to donate over $550 to the fund, in the process becoming the only collegiate program in the country supporting this particular fund.
"I was very grateful with the support from the community, students, parents, and players," said Burdeau. "I am blessed not only have had Meme touch my life, but also to be able to share it with others. I am honored that we have been chosen as a finalist for this award and am extremely grateful that it provides additional funds. "
The Tornados will now be able to double their contribution to the cause. Because Brevard was selected as a finalist, the NCAA will make a $500 donation in Brevard's honor to the Meme Brown Fight Like a Girl Scholarship Fund. The overall winner of the Division II Award of Excellence, along with second- and third-place finishers, will be announced on January 17 during the Division IIbusiness session of the 2015 NCAA Convention in Washington, D.C.
The overall winner of the award will receive a $1,500 cash prize earmarked for future community involvement endeavors and will have a football or basketball contest televised nationally during the 2015-2016 academic year. The second- and third-place winners will receive $1,250 and $1,000 prizes, respectively.
"The girls, Coach Burdeau and I were proud to give $550 to the fund," said Raye, "and now we get to add on $500 more—it's truly a blessing. I want Meme's story to continue to inspire others and it's clearly doing just that."
Visit the official site of the Tornados for more information.