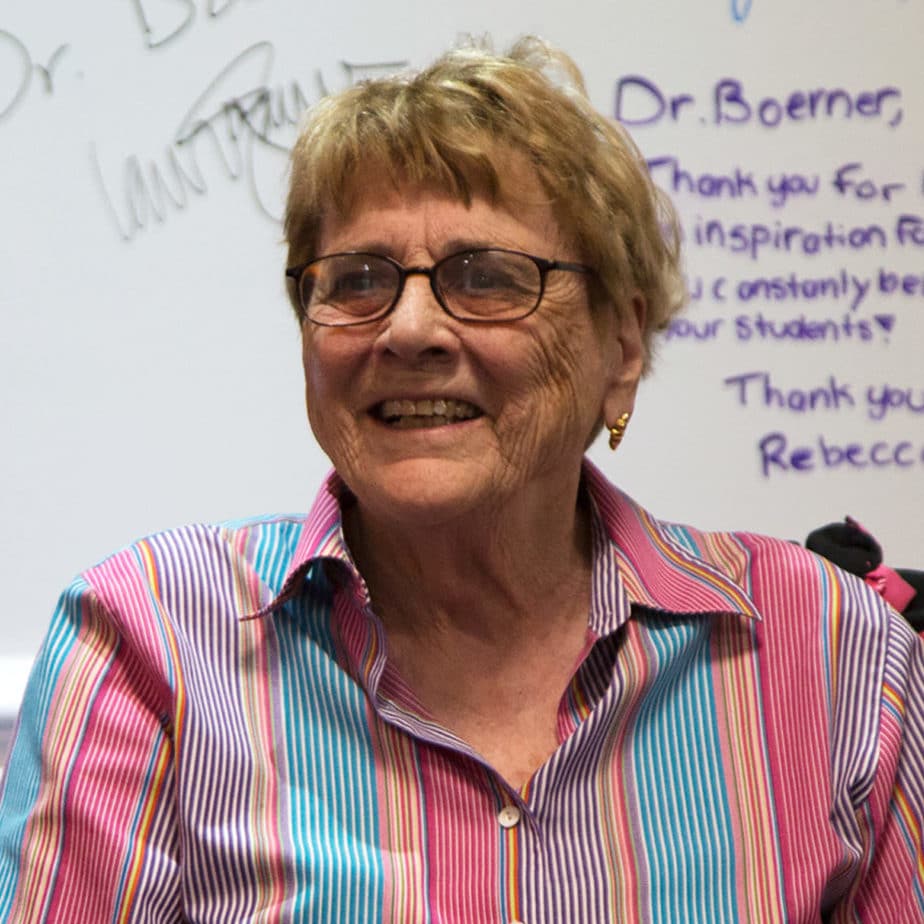 Last week, dozens of Dr. Boerner's former colleagues and students crowded into a newly renovated space adjacent to the dining room in Myers Hall at Brevard College. They were gathered to honor Dr. Boerner's long career as a professor and administrator, and to celebrate her generous gift to the College. "It is a privilege to be standing here today to honor Dr. Boerner for her years of service, dedication and love for Brevard College," said the Reverend Dr. David C. Joyce, president of Brevard College. Joyce went on to say, "…though she is retired from Brevard College, she will remain an active member of our BC family as a member of the College's governing board."
After her retirement in May, 2018, Dr. Boerner began a discussion with President Joyce about her desire to fund an innovative space for "discourse, challenge, and learning" on campus. Her vision was for a comfortable, flexible, and technically adaptive space where students, teachers, and administrators could gather to ponder weighty issues and knotty problems. Proximity to the dining room was desired should sustenance be required by either the weight of the issue or the length of the meeting.
The room, now officially known as the Boerner Conference Room, features a smart board and three walls of white board paint which turns the walls into a springboard for creativity and note taking.
The fourth wall features an impressive photo measuring 35"x 100" on stretched canvas by Thomas Kennedy, Brevard College class of 2021. The photo of the Blue Ridge Mountains overlooking Brevard was taken from the Blue Ridge Parkway and just hints, as Dr. Boerner pointed out, at the lights of the town below and at the spark of intellectual activity taking place at Brevard College.
Over the course of 21 years, Dr. Boerner worked at Brevard College as an associate professor of Business and Organizational Leadership (BORG), coordinator of BORG program, and Chair, Division of Social Sciences and professor of BORG. Dr. Boerner received her Doctorate in Business Administration from Argosy University, holds Masters Degrees from American University and Loyola University, and received her B.A. University of North Carolina in Greensboro.
An active and engaged resident of the Brevard since 1995, Dr. Boerner was given the 2018 Governor's Volunteer Service Award from the North Carolina Commission on Volunteerism and Community Service.
Brevard College is consistently recognized as one of the best liberal arts colleges. The College's focus on experiential learning, small class sizes, and location the mountains of Western North Carolina near Asheville makes Brevard a top choice college for students around the world.