Brevard College's music program immerses you in your craft, both on and off campus.
You'll find a vibrant community of student musicians, a world-class performance facility, breathtaking scenery, and faculty who are passionate about your success. 
The National Association of Schools of Music (NASM) has accredited Brevard College since 1967.
Schedule your campus visit experience and learn more about audition dates and scholarship opportunities for students of the fine arts.
Music Audition Information
What you'll experience in the Music program:
Faculty who nurture and challenge, helping you reach your full potential
Frequent performance opportunities and enthusiastic support from the community
A professional accompanist as part of your applied study
Trips to regional conferences, such as NATS, NCMEA, AMS, PASIC
A community of collaboration: students and faculty, composers and performers, musicians and actors, artists, poets, and ecologists
Rigorous training that will prepare you for grad school, performance, teaching, or careers in other fields
You can pursue:
Bachelor of Arts in Music
Bachelor of Arts in Music Education
Minor in Music
Career Opportunities:
Here are some samples of the accomplishments and positions held by BC Music graduates:
High School Chorus Teacher
Middle School Band Director
Arts Administrator
International Jazz Competition Winner
Internationally touring performer
Church Organist and Choirmaster
Graduate schools: University of North Carolina (Greensboro and Chapel Hill); University of Tennessee; University of Colorado at Boulder; Shenandoah Conservatory; University of Kentucky

Brevard College proudly maintains a partnership with the nearby Brevard Music Center. For more about the Music Center and the Brevard Fine Arts Community, visit our Town of Brevard Page.
The Paul Porter Center for Performing Arts
This state-of-the-art performance space is an outstanding resource for both the College and the community. It serves as a:
Musical performance space for Brevard College productions and students, the Brevard Music Center, the Brevard Philharmonic, and local and regional groups
Performance and rehearsal space for Brevard College theatre productions
Gathering place for special campus-wide events, celebrations, and galas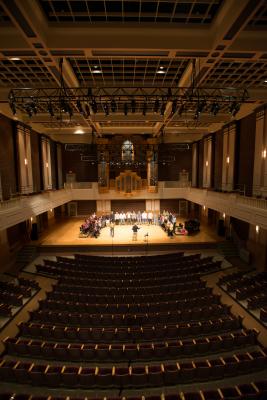 Ensembles:
Instrumental - Wind Ensemble, Jazz Ensemble, Jazz Combos, Chamber Music, Percussion Ensemble, Guitar Ensemble
Vocal - Concert Choir, Chamber Singers, Opera Scenes, Musical Theatre
Brevard choral Institute:
Brevard College, in association with the Brevard Music Center, invites High School choral singers to attend a one-week intensive workshop at the Brevard Choral Institute from July 11-17, 2021.
You will attend professional concerts, sit in on rehearsals, and perform in a chorus for an enthusiastic audience.
You also will develop leadership skills, enjoy beautiful scenery, and create bonds with other students who share your passion for music.